THE TERROIR
The geological base of the terroir of Château La Roque is a marly-limestone substrate with a dip between 45 and 90°. The soils situated above this substrate have layers of between 50 cm and 1 m. They are divided into three types.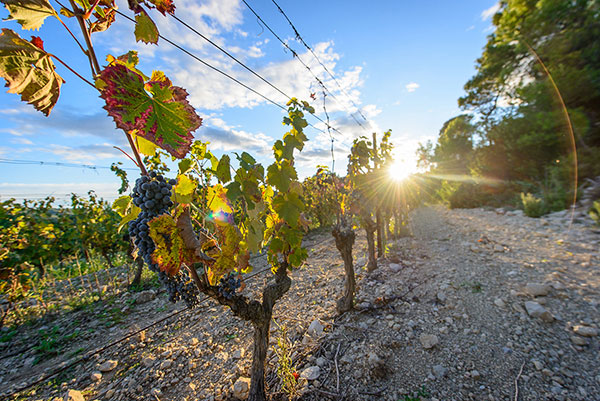 Marly-limestone terroirs
Located on lower slopes, they are characterised by deeper soils, suitable for Syrah thanks to their high water reserves. A section of the vineyard planted with white grape varieties flourishes well there.
Clay and limestone terroirs with clays…
– Decarbonated red soils, originating from the scree on lower slopes. A rather deep terroir which suits all grape varieties and particular Mourvèdre thanks to its water reserves. This terroir is mainly situated at mid-slope level.
– Beige, non-decarbonated soils, created by the gradual decomposition of the limestone mother rock mixed with pockets of clay imprisoned between the different strata. The stratified limestone mother rock has a near vertical dip which allows deep rooting and good drainage. Syrah and all the white grape varieties present on the estate flourish very well on this terroir on lower slopes.
Clay and limestone terroirs with hard limestones
Located on the uplands of this estate, this terroir, which was trialled more recently, demonstrates great potential for producing high quality Grenache and some white grape varieties (Rolle, Marsanne).