Mourvèdre
For a long time, the reputation of Château La Roque has been particularly linked to the quality of its Mourvèdre grapes, this original grape variety which has such a great future… Red wine made with Mourvèdre grapes is powerful, colourful and tannic. Subtly peppery, it is often gamey when young with spiced black fruits always present. It is both robust and delicate. Deep and velvety. Coarse yet fine. It ages wonderfully We love it.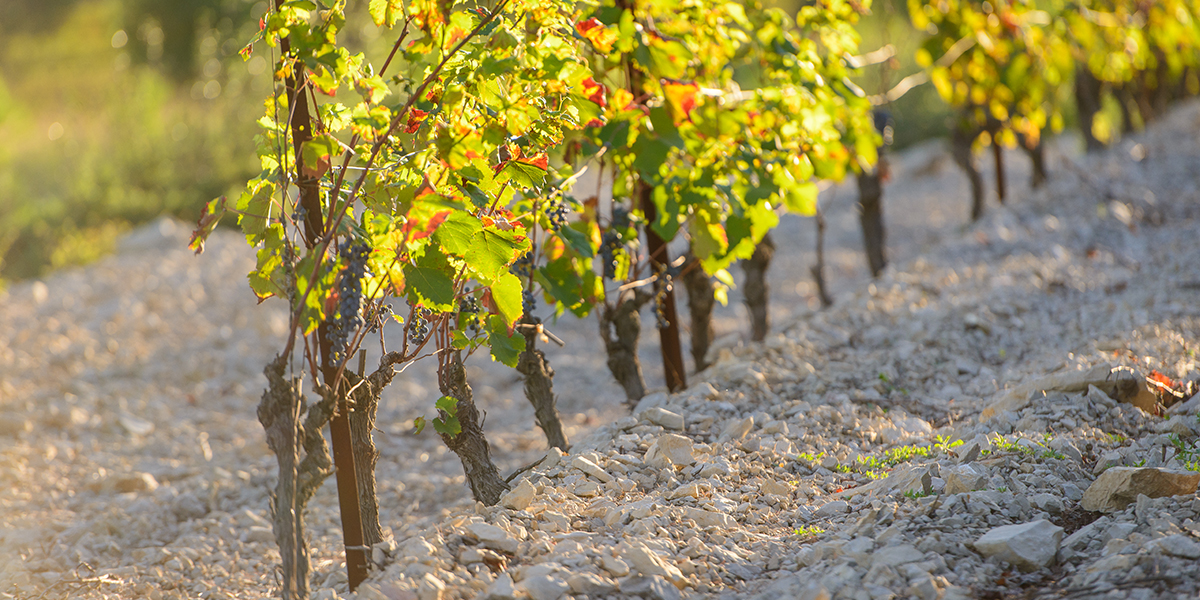 A plot of Mourvèdre grapes, on the lowest level of the terraces…
With its origins shrouded in mystery, Mourvèdre was for a long time considered as a mere blending grape variety, and is now mostly grown in the southern Rhône Valley and on the sunny hillsides of the south of France and in particular in Bandol, on the shores of the Mediterranean, a town which has over time become its standard bearer.
We have little information on the history of this grape variety, however it would appear to have come from Spain. It is thought to be linked to the Mataro Spanish grape variety, originally from Catalonia. The Americans refer to Mourvèdre as Mataro.
Its French name could be derived from the name of the commune of Murviedro, located in the province of Valencia. It is not known how long it has been grown in France, but it is thought to be several centuries. We know that the production surface area was much larger before the phylloxera crisis, at the end of the nineteenth century.
Characteristics
The particularity of this grape variety is its very late budburst and maturity. A maturity which it reaches with lots of heat and light over a long period of time. It is a vigorous plant which adapts well to poor soils and can withstand southerly winds. Its yields can be very high (not on our estate) and it requires expert pruning. It is susceptible to mildew and powdery mildew, but is resistant to grey mould, thanks to the thickness of its skin.
Description
Its compact bunches are medium to large in size, conical, narrow and sometimes winged. Its berries are medium size and spherical, with a thick skin and bluish black colour. Their flesh is melting with a bitter flavour.
Preferred terroirs
In France, the appellation which presents it to best advantage is Bandol, where it must make up at least 50% of the grape varieties used. It is generally used in blends and is mostly found in the appellation areas of Provence, the southern Rhône Valley and Languedoc-Roussillon. It is also grown in the United States and Australia…