Where can you enjoy our wines?
Before or after visiting the estate, here are two great venues, trusted locations where you can sample our wines near Pic Saint-Loup…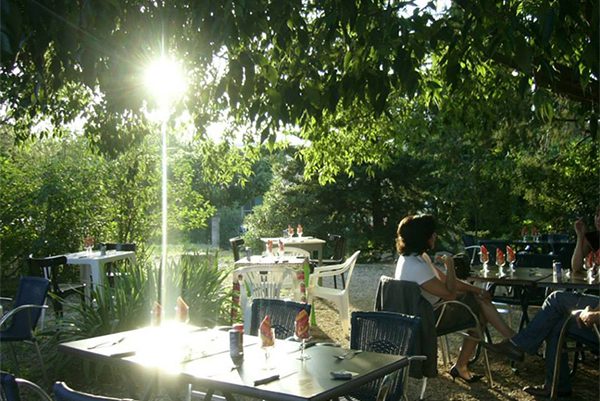 Le Pic Saint-Loup, at les Matelles
A traditional location with an authentic cuisine. The restaurant is a former wine cellar full of beams and exposed stone, and flanked by two terraces: one small one at the front, very sunny, and a large one in the shade of age-old hackberry trees; without doubt one of the most beautiful in Pic Saint-Loup.
The chef, Fafa, produces a refined, honest and imaginative cuisine which she regularly updates. Unusual, fragrant flavours, packed with herbs, spices and seasonings, take you on a tantalising gastronomic journey through recipes from all over the world, like so many memories of journeys which she recalls and shares with her customers.
Chantal is there to welcome you, with her broad smile and wine list which is almost exclusively dedicated to the Pic Saint-Loup appellation. And a tremendous team who join in the enjoyable, happy times…
Booking advisable on:
176 route de Montpellier
34270 Les Matelles
Réservations conseillées au +33 (0)4 67 84 35 18
www.lepicsaintloup.fr
Le Mas de France, in Vacquières
Restaurant and table d'hôtes. Get away from it all for a weekend or longer.
Laurent Faure welcomes you to his magnificent farmhouse, set amidst the vines. Here you will have the use of a swimming pool, a sauna, a jacuzzi and a landscaped garden… Laurent, the head chef, will give you the benefit of his 25 years' experience, 12 of which have been spent in the service of Pic Saint Loup winemakers, on the occasion of the Vignes Buissonnières gastronomic walk!
The restaurant is only open in the evenings, from Monday to Saturday, and Sunday lunchtimes.
10 route des Verriers
34270 Vacquières
Email: contact@lemasdefrance.com
Tél. +33 (0)6 19 01 40 87
www.lemasdefrance.com