GUARDIAN ANGEL
Located around 20 km to the north of Montpellier, Pic Saint-Loup is visible from a large part of the département of the Hérault, the coastline and the Gard département, from where its outline is reminiscent of an arrowhead soaring up towards the sky. It is one of the most beautiful natural and hiking sites in the Garrigues region, the outpost of the Cévennes. The mountain is also considered as the Languedoc equivalent of the Sainte-Victoire mountain. With the Hortus Mountain which faces it from the north, it forms a protected natural site.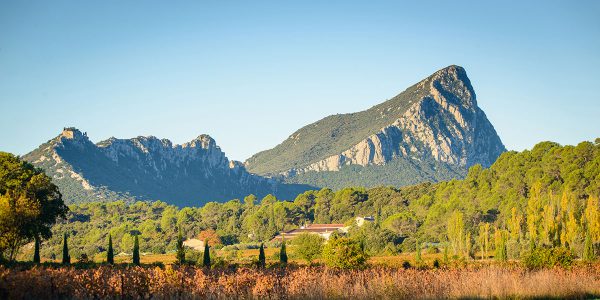 A striking contrast of minerals and plant-life, Pic Saint-Loup is a landmark for an entire region…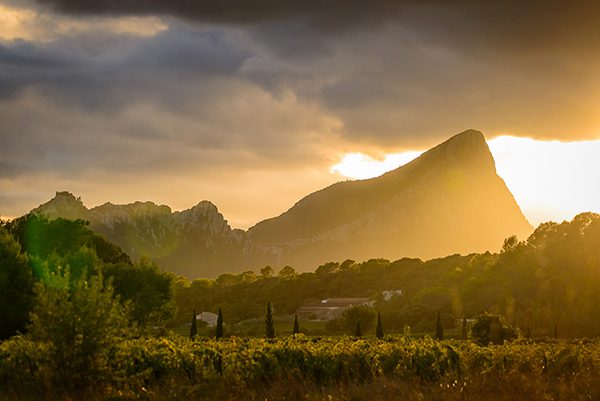 The majestic Pic Saint-Loup.
From the top of its sharp-edged ridge, Pic Saint-Loup stands up to the elements. A large iron cross has been erected there, an observation post and the chapel of a former hermitage.
Pic Saint-Loup is said to take its name from a mediaeval love story. Three brothers, Loup, Guiral and Clair, all in love with the beautiful Bertrade, set off for the Crusades without knowing which one of them she would choose for her husband. On their return from the Holy Land, their beloved had passed away. Despairing, they decided to live as hermits on the summits of three neighbouring peaks. The one which Guiral lived on became Mont Saint-Guiral. It is located near Mont Aigoual and its granite dome reaches a height of 1366 metres. The one Clair lived one was named Mont Saint-Clair (175 metres high; the town of Sète is built at its foot). Settled on the Pic to which he gave his name, Thieri Loup was the last to die. Like his two brothers, he had lit a fire every 19th March throughout his life in memory of his beloved.
But perhaps the origin of the name is linked to the Celtic cult of Dieu Lug..
The summit reaches an altitude of 658 metres and looks over a vast landscape. The Pic is made up of limestone from the Jurassic period and offers a striking spectacle with its miniature double, the Hortus Mountain, located right opposite.
The stone of Pic Saint-Loup was formed by the accumulation of marine sediment, which over time became very thick. Temperatures and pressures altered the nature of the deposits, resulting in this white rock which the movements of tectonic plates have pushed up towards the sky. Some locations are very rich in fossils (pyrite ammonites held in blue marl).